Even if you already have a home cleaning service most of them don't do windows which might prompt you to want to do them yourself. In today's blog we're going to tell you exactly how you can do just that, including giving you a list of the tools and cleaning products that you'll need in order to do it. Keep in mind that window cleaning takes a bit of time and lots of patience in order to get the kind of results that really look good.
Cleaning Windows Tips
First, here's a list of some of the window cleaner tools and products that you're going to need. You can find these at most hardware stores or home improvement DIY stores and you're definitely going to need them if you want your windows to be sparkling clean.
A 6 inch 15cm squeegee for smaller or French windows
A 12 to 18 inch or 30cm to 45cm squeegee with interchangeable blades
A mop with a head that is at least 10 inches 25cm wide but no wider than 18 inches 45cm
Microfibre or Surgical rags which are best because they don't leave behind any residue
Washing up Liquid, the kind that you use at the sink to clean dishes
A large, heavy-duty bucket with handle
An old towel that you can use to wipe up any water that spills
A small brush
Once you have all of your tools and cleaning products together you're ready to get started on your window cleaning task. The first thing you'll need to do of course fills your bucket with water. Most people like to use hot water because, frankly, you wouldn't wash your dishes in cold water and you probably wouldn't want to wash your windows with cold water either. Next, you can put in about half a cup of Washing Up Liquid and swish it around vigorously with your mop.
Before starting if you have any ornaments on the windowsill remove them once they're out the way and safe. Next, dip your mop in the bucket and wring it out so that it's not dripping wet and use it to completely wet the entire window glass. (You don't want to leave behind any dry spots because they can sometimes streak.)
Now you're ready to get started with the actual window washing. There are 3 different techniques that you can use when window cleaning with a squeegee.
The first one is by simply pulling the squeegee down from the top of the window to the bottom starting at one edge and ending at the other. Pointing a squeegee slightly downward will help you to avoid streaks.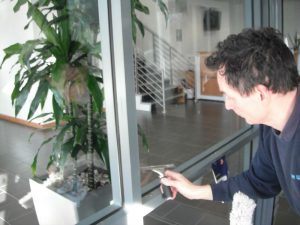 The second method involves moving your squeegee from one side of the window to the other, holding the squeegee in a perpendicular position to the windowsill. Overlapping the squeegee slightly, you would simply go in rows from the top to the bottom, repeating until done.
The third method, which is actually the most difficult, is something called "the wave". Starting at the top edge of your window you would hold your squeegee at a 45° angle facing up and then, in a quick motion, move it to the top and run it along the edge. Do this several times and change position as you go you'll end up hitting each corner. If you do it right you'll get sparkling clean results every time.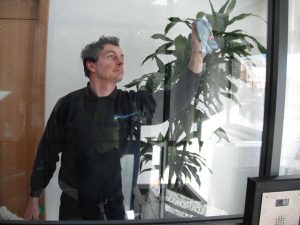 Now that you've read this blog and found out exactly what cleaning windows is going to entail, you might be saying to yourself "my goodness, window washing so that my windows are sparkling clean is a lot of work!" If you are then we have one final suggestion; give Pete from Jet Wash Seal a call. When it comes to professional internal window cleaning and Exterior Cleaning services he's the best in the business! Our regular sparkling crystal clear Window Cleaning service offers the option to have your property cleaned every 4 weeks, 8 weeks or 12 weeks and this service is automatically covered with our 100% guarantee We are fully insured, members of the Federation of Window Cleaners.
So for all your home and business cleaning needs in Wolverhampton, Dudley, Stourbridge southwest Birmingham, Edgbaston, Harborne and the surrounding towns and villages.
Contact: Jet Wash Seal
Email: [email protected]
Telephone: 01902 655499
Post:
8 Hilston Avenue
Wolverhampton
West Midlands
WV4 4SZ